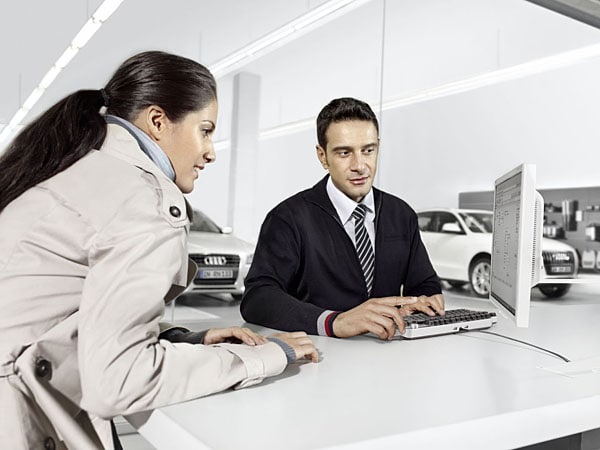 Here at Audi of Layton, Leasing and Financing is Fair, Simple and Straightforward for Luxury Car Shoppers From Salt Lake City and Ogden
A lot goes into the perfect new Audi or pre-owned luxury car. You'll want the performance that gets you going, the tech that's helpful while on the road and the style that says you mean business. Beyond knowing what you want in your next Audi, you'll need to find a way to fit it in your budget. The finance center at our Layton, UT Audi dealer serving Salt Lake City and Ogden is your go-to source for answers to any questions you have, and our leasing and loan professionals will get you the rates that make the most sense for your budget. Be in touch today or simply head over to 1230 North Main, Layton, UT today and we'll be happy to help you out.
Our Layton Audi dealership prioritizes you as a customer, and we'll always let you take charge when it comes to choosing the right kind of financing. Finding the perfect new Audi A6, TT or Q3 is easy here in the Salt Lake City area, but when financing gets involved, you'll probably need some guidance. We'll be here to answer your questions, and we'll also be sure to provide guidance when you need it.
Choose the Right Lease or Loan for Your New Audi or Pre-Owned Vehicle Near Salt Lake City
Depending on your unique situation and your budget, choosing between leasing or financing your new Audi will be an important decision. Leasing will mean a lower - or even zero - down payment and typically lower monthly costs, but the agreement lasts for only two or three years before having to decide between purchasing the Audi for its remaining value or moving on with a new lease. Financing with a loan will typically cost more up front with higher monthly payments, but you can spread out the term of your loan for a longer period of time to mitigate those higher costs. Purchasing with a loan will also be a better long-term investment if you want to keep your Audi or pre-owned vehicle for a long time.
Figuring out the kind of new Audi A4, A6 or Q5 you want will also help you make a great financing decision. If you're content with the base level offerings - and Audi is generous in its starting packages - then a loan will probably be affordable enough so you'll have your car for several years. On the other hand, if you want to fit a higher trim with all the available options and tech features but don't want to stretch your budget too far, a lease might help you to keep your payments workable.
Before Visiting Audi of Layton, Use Handy Online Tools to Get Started on Financing a New or Pre-Owned Car
While we love to see you in person when you have a part of the financing process to complete, we also understand you have a busy schedule and making your way over to Layton isn't always possible. That's why we offer several handy online resources to help in your new Audi or pre-owned car search. Fill out our financing application online as soon as you're beginning your search for your next vehicle. That way you'll be prepared and approved for the best leasing or financing offers you'll find here.
Once you're approved, be sure to check out the new Audi and pre-owned specials we're always offering. When you're ready to sign your loan or lease agreement, head on over to Audi of Layton today and we'll be happy to help you out.